I have had quite a lot of emails about the Bob Geldolf stuff.
I was asked - by an angry Bob Geldolf fan - to supply some serpent symbolism facts from Hyde Park.
So I pointed out the fact that in the 1700's a manmade lake was formed in Hyde Park by combining "11" small lakes by order of the royal family.. The name of this lake is "The Serpentine".
Also on 6th July 2004 (co-incidentally) exactly one year before the G8 meeting in Scotland a memorial was opened - near the serpentine - to honour the murdered Diana. I remember the public outcry about how silly the memorial was at the time.
Here is an picture of the plan (aerial view) of the "memorial"...
Remind you of anything folks? It could be eye symbolism? It could be vagina symbolism? It could be ouroboros - serpent symbolism? Or is it just co-incidence?..... I wish I could be paid a lot of money for "designing" memorials for the powers that be!.........
Is it all just coincidence? Here is a picture of the memorial closer up. People are encouraged- especially children - to bathe their feet in this "memorial". Serpent Baptism?.... I certainly wouldn't put it passed them.

Or on really hot days- especially at large pop concerts- people just dive in the serpentine itself.
Is it just me that sees this obvious serpent cult symbolism? Or only me that is daft enough to write about it?
Check this link out and see how the serpent is known in many cultures including ancient Egypt - as a trapper of souls.
Does this sun worshipping serpent cult covertly rule our world today?
We blindly let the powers build these symbolic monuments without serious questions being asked. Are we are so dumbed down and vain that we haven't the guts to strongly question things? Or have we become so spiritually worthless we don't even care anymore?
---
The Past is Calling…
update…CORNWALL….( Friday 18th June 2005)
The serpent in the tree or just a Cornish Pasty?
I can hardly keep up with uncle Bob and his mobile phone. He has sneaked another gig in- this time in Cornwall.
Official BBC sources state this.......
Eden goes African for Live 8 gigs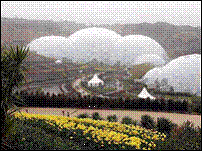 Eden has hosted rock concerts for four years
The Eden Project is taking part in the international Live 8 concerts being held across the globe next month.

Managers at the environmental attraction are talking to Live 8 and Peter Gabriel, of world music body Womad, about a concert on 2 July.
It follows criticism that not enough black African musicians are taking part in the main Live 8 gigs.
The line-up for "Africa Calling" at Eden, which has hosted gigs for four years, will be confirmed on Wednesday.
Eden founder Tim Smit, who made his fortune in the record business, has been working to put the concert together following criticism from Blur frontman Damon Albarn and others that Live 8 is too dominated by white artists.
<![if !vml]><![endif]>

"I would not say it's a response to the criticism, more an enhancement of the event"

David Rowe
Eden press officer David Rowe said: "I would not say it's a response to the criticism, more an enhancement of the event."
Eden has a capacity of 5,000 people in the landscaped former china clay quarry.
It is already hosting a series of live concerts this year from top acts such as Keane and Basement Jaxx.
Mr Rowe said: "For a fairly young organisation it is a quite a coup, but Eden is a perfect venue for this."..........................
Obviously the domes at the "Eden Project"( Masonic and ancient symbolic monuments) and the name EDEN are relevant at this old CLAY quarry venue. (who was made of Clay?) Wasn't there also a serpent in Eden that caused man to sin?
I suggest this Eden in Cornwall is more likely to contain Lilith rather than Adam and Eve.
I heard late last night that "Good ole Bob" has somehow plucked three more gigs from his mobile with less than two weeks to go. I don't know the venues yet ..but I wish to make it clear that in my opinion it is the announcement of the original 5 venue's that matter most.
I also quote my mate Bob yesterday.....
"I'm not supposed to talk about this but "other people tell me" there are arrangements to allow hundreds of thousands more into the parks on the day," he said.
He added that there would not be another gig like Live 8 in anyone's lifetime.
"You have the originals, their children, their grandchildren, their great grandchildren. They will never be on a stage together again................................
Make of that what you want folks but this knight is a pure patsy and clown for illuminati/ Masonic forces in my opinion.
Again I find the name of venue and the Domes just too coincidental.
Garden of EDEN?...don't bite the apples folks.... have a hotdog instead...."Africa Calling"(they have called it) in Cornwall my ass...This is the Illuminati calling ..…

The Past is Calling….update 21st June (summer Solstice) 2005
Serpent made from Clay?
Despite frenzied counter claims by Toronto OFFICIALS the next live 8 venue is BARRIE in Ontario Canada.
The venue is Molson Park ...now- very recently- known as Park Place.
I pointed out in the last live 8 posting that the Cornwall location - EDEN PROJECT- was built on an old clay quarry.
Lets have a look at what took my eye in Barrie...I have no knowledge of Canada and Molson Park. I know Molson family were freemasons and had brewery's railroads and even had their own bank.
Information on Barrie is scarce but the Freemason connection to the park is very strong.
Its not the park I want to expose to you... the park is too easy for experienced buffs like you that visit Illuminati News .. so it is this I want you to look at …..
.......Behold the trickery used in Barrie ...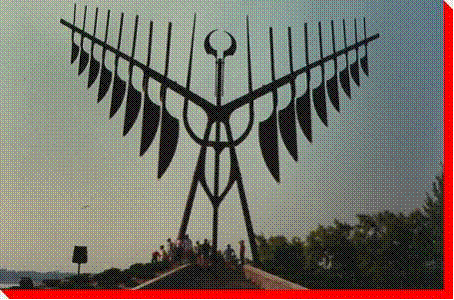 Nice one Sir Bob! Not many know about this beauty do they?...Its known officially in the trade as the "Spirit Catcher" notice how big this via size of people below it ...I call it the "soul collector" notice the wings and the horns?....The trident( through centre)? The pyramid? .......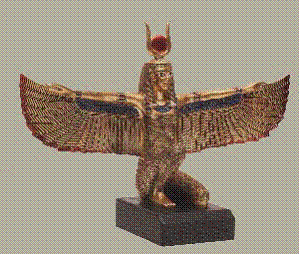 Look at the horns on that lads!

You don't see many pairs like that about do you?
Anyway the "spirit catcher" in Barrie awaits the Live 8 party.
Here is a bit of history about Isis for those that do not know......................
Priestesses of the Temple of Isis knew a cure for snake bite.
An interesting anecdotal story about Isis tells how she used the bite of a serpent to extort a secret out of a king. The story is a well known classic known as the "Legend of Ra and Isis." It was a common belief in Egyptian religion that knowing the secret name of someone or something could give one power over that person or thing.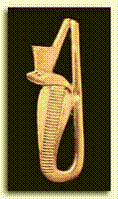 Egyptian Pharaohs went to great lengths to keep their true names secret. The "Legend of Ra and Isis" deals with the goddess Isis and the sun god Ra, but surely the original events from which the story evolved began with a mortal "sun king" Pharaoh and a priestess of Isis.
According to the story, Isis desired to be a goddess and live amongst the immortals. "Her heart rebelled at the millions of men, she chose rather the millions of the gods." "Could she not be in heaven like Ra and make herself mistress of the earth and a goddess by knowing the holy name of the god?" She fashioned a "sacred" serpent out of clay and placed it along the path where the sun god walked each day.
The serpent bit the god. " The life was coming out from him. . . His two jaws rattled, his limbs all trembled, the poison took possession of his body." "I am wounded by something deadly, knoweth it my heart. Not know I who has done this to me. Not have I tasted pain like this. Never was anything more deadly than it."
"Came Isis with her power and her skilled mouth, with the breath of life her incantations cure diseases." She said "What is this O father god? What is it? Has a snake shot sickness into thee?" "I was passing over the way, passing through the two lands of my country when I was bitten by a snake." "I am colder than water; I am hotter than fire; my limbs are all full of sweat. I tremble; my eye is without stability; I cannot see the sky; bursteth out water from my face as in summer." She said "Verily it shall be overthrown. By words of power I will make it depart."
Said Isis to Ra "O tell me thy name father god." The king then went on and enumerated a long list of his titles and epithets. But "Not was driven the poison out of its course; not was relieved the great god." Said Isis to Ra "Thy name is not enumerated among the things thou hast told me. O tell thou it to me, and out shall come the poison." Said the majesty of Ra "I give myself to be searched out by Isis, shall come forth my name from my body into her body."
The great god was removed from his name. Isis, great in words of power said " Run out poison, come forth from Ra. Eye of Heru, come forth from the god and shine without his mouth. I have worked; I make to fall down upon the ground the poison which is defeated." Thus said Isis, great lady, mistress of the gods who knew Ra by his name, his own true name. "Verily was removed the great god from his name."
The "Legend of Ra and Isis" is fully transliterated and translated in The Gods of the Egyptians by E.A. Wallis Budge. The "Legend of Ra and Isis" was originally one of the many "soma mystery" stories that were extant in the ancient world. The version that Dr. Budge translated is from a Dynasty XVIII papyrus. It is a long and elaborate version of an older and simpler story. The many intrusions of later day text into the story reveal that the scribes who wrote it had no clear understanding of the soma mystery about which they were writing. However, the story does reveal that minions of Isis knew a cure for snake bite.....
Back to Molson Park and the Molson Freemasons. Quoting John Molson site.....
"John Molson was active in shaping the city of Montreal and its history, and over the years, successive generations of Molsons have followed in his path. The Molson name is inextricably linked to the city: Molson's Bank, Molson stadium, Molson Library, Molson Breweries, Molson Centre and most recently, the John Molson School of Business."
Looks like Molson had his Masonic fingers in most pies then! They make Coors beers ..even fosters lager!
Here is there company logo.......

Can you make out the laurel leaf? Can you make out the hexagram? Molson is top grade Mason alright so its only fitting that Live 8 use their park.
I go away soon and maybe not able to follow this up but as I have said I feel the main venue's are the first 5 that were announced. I don't know the Tokyo or Africa venues yet but I hope you all can see the illuminati connections so far. At least 8 out of 10( including Gleneagles G8) venues will have illuminati connections even if we don't even look at the last two in Japan and Africa!!!- some so blatant it cannot be coincidence.
Have another look at the spirit catcher and make sure she does not catch or collect your spirit....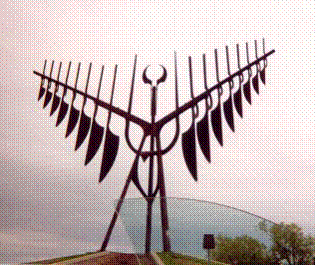 My eyes are not very good these days and I thought the top of Molson's logo was a torch (it still resembles one) BUT as you can see-on the blow up- that "coincidently" it resembles the horns of Isis and on the spirit catcher statue.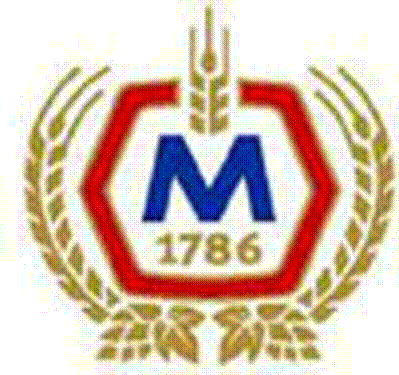 Here is a link proving Molson connection to Freemasonry.
http://freemasonry.bcy.ca/biography/molson_j/molson_j.html
Live 8 deceptions?...its just a walk in the (Molson) park for them!


Thanks to you for reading this.
Matthew Delooze 21 ST June 2005