Video "Clinton Tapes"
ct1.wmv

Video:
Martin L. Cross author of "The Great Whitewater Fiasco"

mlc.wmv
Chuck Harder Show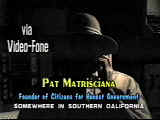 The man behind "The Clinton Chronicals"
Video II "Clinton Tapes"
CChronicals.WMV

Larry Nichols is the former marketing
director of the Arkansas Development and
Finance Authority, and former associate of
Bill Clinton.
Video III "Clinton Tapes"
CChronicals2.WMV

Video IV "Clinton Tapes"
CChronicals3.WMV

Chuck Harder's Web Site
http://www.broadcast-talk.com/for_people.html
============================================
Daniel Hopsicker reporting on 911


Fri Nov 2 13:57:33 2001


Daniel Hopsicker reporting on 911

Date: Fri, 02 Nov 2001 13:11:17 -0600
From: "Rev. Tom Brown" - revtombrown@hotmail.com


Greetings in the name of the most high, Jah Rastafari,
ever faithful, ever sure, Jah Rastafari. Please take the
time to visit www.madcowprod.com. Please read the series of
articles there. Daniel Hopsicker is the author of "Barry
and the Boys", the latest book about Barry Seal and the Mena
drugs for guns operation. He is now reporting on the WTC
terrorism. He is reporting from the town in Florida where
the terrorist pilots recieved flight training, Venice.

He is reporting the following facts.

1) The flight schools where
the pilots recieved training were purchased by two dutch
nationals in 1998. These men then set up advertizing in Europe
to recruit pilot trainees. These men obtained authorization
from our State Department to issues visa documents to these
foreign nationals so they could enter the country for flight
training. These men appear to be CIA cutouts from their
behavior.

2) The terrorist pilots also had recieved training
at U.S. militery bases. The pentagon has now admitted where and
when these men were trained at our bases.

3) The terrorist pilots are Saudi nationals, associated with terrorist
ops in Germany and known to the CIA/NSA/State Department as terrorists.

4) The airport in Venice adjoins property, and a mansion, owned
by Jackson Stevens, of Stevens Inc. of Little Rock, Arkansas.
This is the largest stock brockage west of the Mississippi. This
company is documented as being part of the Mena drug smuggling
money operation. Jackson Stevens was roommate with Jimmy Carter
at Annapolis, and brokered the deal between Bert Lance and BCCI
for BCCI to purchase Bert Lances' bank when Lance got into trouble
for fraudulent loans. BCCI had been on a CIA watch list as a
subversive international bank - not allowed to deal directly with
American banks. BCCI was removed from that list and allowed to
purchase Lances bank which gave them entry to the American Banking
system. Stevens owns a law firm in Venice, Boone, Boone & Boone,
which is said to control everything in town that they don't own.

It looks like Daniel has the CIA/NSA covert ops by the tail, and
he needs our attention to provide him with some cover from fallout
from this investigation. Please lend him that assistance by going
to his website www.madcowprod.com and let him know what you think
about his reporting. Also please purchase his book, Barry and the
Boys, Daniel Hopsicker, 2001 - which is available in local bookstores.

Please contact all Congressional offices to demand
an investigation of Jackson Stevens, Stevens Inc. and the militery
CIA/NSA connections to the pilot terrorists.

I leave you in One Love,

"Rev. Tom Brown" - revtombrown@hotmail.com
===========================================

Obstruction of Justice: Appeals Court Rejects Libel Judgment


By KELLY P. KISSEL
.c The Associated Press

LITTLE ROCK, Ark. (AP) - A federal appeals court Tuesday threw out a
defamation judgment against a filmmaker critical of former President Clinton,
saying one of the conspiracy-laden videos blurred the line between fact and
fiction, but two sheriff's deputies mentioned in the film had no standing
to sue.

In dismissing a $598,750 judgment against Patrick Matrisciana, the 8th U.S.
Circuit Court of Appeals in St. Louis wrote that it was not saying he was
ethical or fair in his documentary about the railroad track deaths of two
Saline County teen-agers.

The video, ``Obstruction of Justice: the Mena Connection,'' focused on
the unsolved deaths of Kevin Ives and Don Henry. In the documentary,
Pulaski County sheriff's Lts. Jay Campbell and Kirk Lane were listed among
six law enforcement officers that alleged eyewitnesses said could be
implicated ``in the murders and the subsequent cover-up.''

The court said the sheriff's lieutenants were public figures and had to
prove Matrisciana knew the information was false or that he was reckless in
weighing information presented in the film.

Ives and Henry were found dead in 1987 after being hit by a train while
laying on the tracks. Their deaths were initially ruled accidental due to
marijuana intoxication, but after a second autopsy and a lawsuit filed
by Ives' parents, the deaths were ruled homicides.

``As the theory goes, they were first killed and their bodies then laid on
the tracks to make their deaths appear accidental,'' the court wrote.

Matrisciana's defense at his trial centered on his right to freedom of
expression.

He said that, according to his research, the boys were walking down the
train tracks about 4 a.m. on Aug. 23, 1987, when they came upon a small
plane dropping a cargo of illegal drugs as it flew without lights 100
feet from the ground. A witness reported seeing the boys seized by two
men, and their bodies were found after they had been run over by a train.

Various conspiracy theories floated during the Clinton administration
suggested that illegal drugs were routinely flown into the airport at
Mena in western Arkansas during the 1980s and that Clinton, then Arkansas'
governor, knew about it but did nothing to combat it.

Matrisciana, who also produced ``The Clinton Chronicles,'' which took
a highly critical view of the former president, said in a telephone
interview from Los Angeles that justice had been served.

AP-NY-07-10-01 2243EDT
========================================================================
Ives-Duffey investigation into the murders of Kevin Ives and Don Henry

August 23, 1987, in a rural community just south
of Little Rock, police officers murdered two
teenage boys because they witnessed a
police-protected drug drop. The drop was part of a
drug smuggling operation based at a small airport in
Mena, Arkansas. The Mena operation was set up
in the early 1980's by the notorious drug smuggler,
Barry Seal. Facing prison after a drug conviction in
Florida, Seal flew to Washington, D.C., where he
put together a deal that allowed him to avoid prison
by becoming an informant for the government. As a
government informant against drug smugglers, Seal
testified he worked for the CIA and the DEA. In
one federal court case, he testified that his income
from March 1984 to August 1985, was between
$700,000 and $800,000. This period was AFTER
making his deal with the government. Seal testified
that nearly $600,000 of this came from smuggling
drugs while working for -- and with the permission
of the DEA. In addition to his duties as an
informant, Seal was used by CIA operatives to help
finance the Nicaraguan Contras. The CIA
connection to the Mena operation was undeniable
when a cargo plane given to Seal by the CIA was
shot down over Nicaragua with a load of weapons.
In spite of the evidence, every investigator who has
tried to expose the crimes of Mena has been
professionally destroyed, and those involved in drug
smuggling operations have received continued
protection from state and federal authorities.
[SNIP]
Train Deaths News & Updates
http://www.idfiles.com/ttd.htm

Mena - Excerpts from Obstruction of Justice
http://www.idfiles.com/menavid.htm

The Mena Coverup
http://www.apfn.org/apfn/mena.htm

Snow Job and Bill Clinton
http://www.apfn.org/apfn/snowjob.htm

SNOW JOB: THE CIA, COCAINE, AND BILL CLINTON
CRONY RIADY INVITES CLINTON TO JOIN LIPPO BOARD
http://www.apfn.org/apfn/riady.htm

Exposing Corruption and Drug Cartel
http://www.apfn.org/apfn/clintons.htm

Who Waco! Probe Clinton's Ties To Riady to....
http://www.apfn.org/apfn/snowjob1.htm


AMERICAN PATRIOT FRIENDS NETWORK - APFN@apfn.org
http://www.apfn.org
Without Justice, there is JUST_US!
http://disc.server.com/Indices/149495.html
===========================================
Clinton Pardons Brother, Business Partner, Former Cabinet Official




Hours before his presidency ended on Saturday, Bill Clinton pardoned former Whitewater business partner Susan McDougal, brother Roger Clinton and former CIA Director John Deutch — granting clemency to a total of 140 Americans.



Susan McDougal

Other noteworthies pardoned were Housing Secretary Henry Cisneros, found guilty of making illegal payments to an ex-mistress; Patty Hearst, the 1970s kidnapping victim who later went to prison in connection with a bank robbery; and Navaho Nation chief Peter MacDonald. Another pardon was granted to former Arizona Governor Fife Symington, forced out of office after being convicted of bank and wire fraud.

The names that didn't make the list were as notable as those that did.

Among them: Webster Hubbell, a former law partner of Hillary Rodham Clinton; Jonathan Pollard, a former Navy analyst imprisoned for spying for Israel; one-time Wall Street financier Michael Milken; and Leonard Peltier, convicted of killing two FBI agents on an Indian reservation in 1975.

McDougal's pardon came just a day after the Whitewater investigation finally concluded, thanks to a deal Clinton made with special prosecutor Robert Ray. The outgoing president gave up his Arkansas law license for five years and admitted to giving false testimony under oath in the Monica Lewinsky case in return for an agreement by Ray not to indict him.

"She's absolutely delighted," said McDougal's lawyer, Mark Geragos. "She is speechless for once in her life. And I think it is especially poignant that it was one of the last acts of Bill Clinton's administration."

McDougal went to prison to forgo testifying in the Whitewater investigation.

Convicted at a 1996 trial where Clinton gave testimony in her defense, McDougal remained an unabashed supporter of the president, appearing on national television in her orange prison jumpsuit to insist that Clinton never engaged in illegal loans or other improper conduct as prosecutors in Independent Counsel Kenneth Starr's office sought to prove.

Her former husband, failed Arkansas savings and loan operator James McDougal, also was convicted at the same trial but took a markedly different path. He chose to cooperate with Starr's office and implicated the Clintons in wrongdoing before his sudden death in prison.

Susan McDougal never wavered, embarking on a campaign to portray the Starr as a politically motivated Republican who was on a "personal vendetta" to pursue the Clintons at the expense of revealing the truth. Starr and his staff repeatedly denied those allegations.

She served just 3 1/2 months of a two-year prison term for her four felony convictions before a federal judge released her because of a back problem.

But her freedom was short-lived. She defied a judge's order to answer Whitewater prosecutor's questions before a federal grand jury and was returned to jail for 18 months for civil contempt.

Frustrated that McDougal still refused to cooperate, Starr's office decided to prosecute her on criminal contempt charges for obstructing the grand jury investigation. The jury deadlocked, and prosecutors chose not to retry her.

Roger Clinton was sentenced to two years in prison after pleading guilty in 1985 to conspiring to distribute cocaine. He cooperated with authorities and testified against other drug defendants.

He has since focused on an entertainment career. The president was best man at his brother's wedding back in the mid-1990s.

Deutch's pardon spares the one-time spy chief and top Pentagon official from facing a criminal trial for his mishandling of national secrets on a home computer.

Deutch had been considering a deal with the Justice Department in which he would plead guilty to a misdemeanor charge of keeping classified data on his home computers.

He got in trouble as he resigned as CIA director in 1996, when agency security officials learned he had written and stored highly classified intelligence reports on home computers linked to the Internet.

Deutch publicly apologized. Pentagon officials later discovered Deutch had similar lapses in security during his tenure as the No. 2 defense official.

Cisneros was Clinton's first housing secretary. He resigned in 1996 amid an investigation into allegations that he lied to the FBI about payments he made to a former mistress, Linda Medlar. In 1999, he pleaded guilty to a misdemeanor charge.

Since leaving office, Cisneros served as head of Univision, the nation's largest Spanish-language television network. Last year, he returned to his native San Antonio to launch an organization to provide housing for low-income families.

At age 19, Hearst was kidnapped in the 1970s by the radical Symbionese Liberation Army. She later served part of a prison sentence for a bank holdup in San Francisco before it was commuted by President Carter. She is married to her former bodyguard, Bernard Shaw.

MacDonald, 72, the former leader of the Navajo Nation, has been in a Fort Worth, Texas, medical prison since his 1992 sentencing for his role in a Window Rock, Ariz., riot that resulted in the deaths of two of his supporters in 1989.

MacDonald was removed from office for taking bribes and kickbacks. The two supporters were killed on July 20, 1989, by tribal police during a march to protest what they considered a coup against their leader. MacDonald, his health deteriorating, has been serving a 14-year sentence for inciting the deadly riot.

—The Associated Press contributed to this report.
http://www.foxnews.com/politics/012001/clinton_pardon.sml

Clinton Pardon's List The Associated Press
Saturday, Jan. 20, 2001; 1:52 p.m. EST A list of the people pardoned or commuted Saturday before President Clinton left office, as released by the White House:

COMMUTATIONS: (-editor: In Law, the change of a penalty or punishment from a greater to a less, as banishment instead of death. Webster's Dictionary)

Benjamin Berger

Ronald Henderson Blackley

Bert Wayne Bolan

Gloria Libia Camargo

Charles F. Campbell

David Ronald Chandler

Lau Ching Chin

Donald R. Clark

Loreta De-Ann Coffman

Derrick Curry

Velinda Desalus

Jacob Elbaum

Linda Sue Evans

Loretta Sharon Fish

Antoinette M. Frink

David Goldstein

Gerard A. Greenfield

Jodie E. Israel

Kimberly Johnson

Billy Thornton Langston Jr.

Belinda Lynn Lumpkin

Peter MacDonald

Kellie Ann Mann

Peter Ninemire

Hugh Ricardo Padmore

Arnold Paul Prosperi

Melvin J. Reynolds

Pedro Miguel Riveiro

Dorothy Rivers

Susan Rosenberg

Kalmen Stern

Cory Stringfellow

Carlo Anibal Vignali Jr.

Thomas Wilson Waddell III

Harvey Weinig

Kim Allen Willis

PARDONS: (-editor: In Law, to release from a punishment that has been imposed by a sentence. Webster's Dictionary)

Verla Jean Allen

Nicholas M. Altiere

Bernice Ruth Altschul

Joe Anderson Jr.

William Sterling Anderson

Mansour Azizkhani

Cleveland Victor Babin Jr.

Chris Harmon Bagley

Scott Lynn Bane

Thomas Cleveland Barber

Peggy Ann Bargon

David Roscoe Blampied

William Arthur Borders Jr.

Arthur David Borel

Douglas Chrles Borel

George Thomas Brabham

Almon Glenn Braswell

Leonard Browder

David Steven Brown

Delores Caroylene Burleson, aka Delores Cox Burleson

John H. Bustamante

Mary Louise Campbell

Eloida Candelaria

Dennis Sobrevinas Capili

Donna Denise Chambers

Douglas Eugene Chapman

Ronald Keith Chapman

Francisco Larois Chavez

Henry G. Cisneros

Roger Clinton (who pleaded guilty to distributing cocaine in Arkansas, and Patricia Hearst Shaw, the heiress who robbed a San Francisco bank in 1974 after being kidnapped by the Symbionese Liberation Army.) http://www.arizonarepublic.com/news/articles/0121clinton21.html also http://www.apfn.org/apfn/clintons.htm

Stuart Harris Cohn

David Marc Cooper

Ernest Harley Cox Jr.

John F. Cross Jr.

Reickey Lee Cunningham

Richard Anthony De Labio

John Deutch ("John M. Deutch, who has admitted mishandling classified information while serving as director of the CIA, is now under investigation for similar security violations when he previously held high-level posts in the Defense Department, according to confidential documents and officials familiar with the case.""U.S. Probe Of Former CIA Chief Expands." Washington Post, 16 Sep. 2000 [http://www.washingtonpost.com] http://www.apfn.org/apfn/deutch.htm and http://www.apfn.org/apfn/deutch2.htm

Richard Douglas

Edward Reynolds Downe

Marvin Dean Dudley

Larry Lee Duncan

Robert Clinton Fain

Marcos Arcenio Fernandez

Alvarez Ferrouillet

William Dennis Fugazy

Lloyd Reid George

Louis Goldstein

Rubye Lee Gordon

Pincus Green

Robert Ivey Hamner

Samuel Price Handley

Woodie Randolph Handley

Jay Houston Harmon

John Hummingson

David S. Herdlinger

Debi Rae Huckleberry

Donald Ray James

Stanley Pruet Jobe

Ruben H. Johnson

Linda Jones

James Howard Lake

June Louise Lewis

Salim Bonnor Lewis

John Leighton Lodwick

Hildebrando Lopez

Jose Julio Luaces

James Timothy Maness

James Lowell Manning

John Robert Martin

Frank Ayala Martinez

Silvia Leticia Beltran Martinez

John Francis McCormick

Susan H. McDougal

Howard Lawrence Mechanic

Brook K. Mitchell Sr.

Samuel Loring Morison

Charles Wilfred Morgan III

Richard Anthony Nazzaro

Charlene Ann Nosenko

Vernon Raymond Obermeier

Miguelina Ogalde

David C. Owen

Robert W. Palmer

Kelli Anne Perhosky

Richard H. Pezzopane

Orville Rex Phillips

Vinson Stewart Poling Jr.

Norman Lyle Prouse

Willie H.H. Pruitt Jr.

Danny Martin Pursley Sr.

Charles D. Ravenel

William Clyde Ray

Alfredo Luna Regalado

Ildefonso Reynes Ricafort

Marc Rich (EX-WIFE OF PARDONEE A BIG GIVER [THE WASHINGTON TIMES]
The former wife of Marc Rich, the fugitive commodities trader and tax evader pardoned by President Clinton in his final hours in office, donated more than $1 million to Democratic causes since 1992, including Bill Clinton's and Al Gore's presidential campaigns.
Mr. Rich fled to Switzerland in 1983 after the U.S. government indicted him on 65 counts of tax fraud, racketeering and tax evasion charges that carry a maximum 325 years in jail. http://www.drudgereport.com/flash32.htm

[[MARC RICH WAS "A MOSSAD" SPY FOR ISRAEL]] http://www.apfn.org/apfn/rich.htm

Howard Winfield Riddle

Richard Wilson Riley Jr.

Samuel Lee Robbins

Joel Gonzales Rodriguez

Michael James Rogers

Anna Louise Ross

Gerald Glen Rust

Jerri Ann Rust

Bettye June Rutherford

Gregory Lee Sands

Adolph Schwimmer

Albert A. Seretti Jr.

Patricia Campbell Hearst Shaw

Dennis Joseph Smith

Gerald Owen Smith

Stephen A. Smith

Jimmie Lee Speake

Charles Bernard Stewart

Marlena Francisca Stewart-Rollins
- Governor of Arizona Indicted on Federal Fraud and Extortion Charges

Richard Lee Tannehill

Nicholas C. Tenaglia

Gary Allen Thomas

Larry Weldon Todd

Olga C. Trevino

Ignatious Vamvouklis

Patricia A. Van De Weerd

Christopher V. Wade

Bill Wayne Warmath

Jack Kenneth Watson

Donna Lynn Webb

Donald William Wells

Robert H. Wendt (The Wendt Law Firm, P.C., 1108 Olive Street, Suite 300, St. Louis, MO 63101 (314) 621-1775 http://www.tirewheelproject.com/articles.html

Jack L. Williams

Kavin Arthur Williams

Robert Michael Williams

Jimmie Lee Wilson

Thelma Louise Wingate

Mitchell Couey Wood

Warren Stannard Wood

Dewey Worthey

Rick Allen Yale

Joseph A. Yasak

William Stanley Yingling

Phillip David Young

http://www.washingtonpost.com/wp-srv/aponline/20010120/aponline135239_000.htm

=================================================================

The Military

Last October President Clinton issued pardons to a number of convicted
Puerto Rican FALN terrorists and sent them home. This was unusual because
the terrorists were bombers who had killed several people during the 1970s
and were serving time in New York prisons. While criticism of the pardons
focused on Hillary Clinton's run for the U.S. Senate in New York, FTW
reported to you accurately (10/99) that the move was really a bargain being
struck between Clinton and Puerto

page 5

Rican nationalists to provide for the safety of U.S. military forces as they
prepared to direct U.S. involvement in Colombia. After the 1999 loss of
permanent bases in Panama, the closest (and only) remaining U.S. facilities
capable of supporting a Colombian intervention are in Puerto Rico. In
unpublicized testimony before the Senate Caucus on International Narcotics
Control on September 21, 1999, Southern Command Chief, Marine General
Charles Wilhelm stated that, "...U.S. Southern Command must compensate for
the loss of U.S. bases in Panama by creating an alternative theater
architecture that will support efficient, effective and flexible CD (Counter
Drug) operations into the 21st century. Puerto Rico has replaced Panama as
the focal point of our theater architecture. U.S. Army South recently
completed its relocation from Fort Clayton in Panama to Fort Buchanan;
Special operations command has displaced from its garrison locations in
Panama to its new home at naval Station, Roosevelt Roads. ...Other forward
deployed elements of SOUTHAF [U.S. air Force, Southern Command] have
migrated from Howard Air Force Base to new locations in Puerto Rico and Key
West."
The Puerto Rican activists who are fighting to keep U.S. Naval
operations of the tiny island of Vieques understand fully that they are
slowing preparations for war.
And signs abound that, like Vietnam, the coming war in Colombia will not
be confined to one country. In his testimony Gen. Wilhelm commented at
length on the effects of the Colombian narco-insurgency on surrounding
nations. He took special pains to lament the power vacuum in Panama which,
since the U.S. invasion in 1989 has had no standing army. This is a great
irony now for the country with the most accessible land border with Colombia
and which is reportedly providing "unpoliced" safe havens for FARC and ELN
guerillas to train, rest and equip without fear of Colombian cross-border
pursuit. This is EXACTLY the situation that developed under CIA control in
Cambodia and Laos from 1959 to 1975.
Just as the Vietnam War involved North and South Vietnam, Cambodia,
Thailand, Laos, Burma and China (not to mention the USSR) the coming
conflict in Colombia will involve Colombia, Panama, Venezuela, Equador,
Peru, Bolivia, Brazil, Costa Rica and perhaps every nation in the
hemisphere. In his 1999 remarks Wilhelm took great pains to note the
deployment of military around Colombia by neighbors including Venezuela
which has, in a gesture of independence, refused to allow U.S. military
aircraft overflight privileges. That is not the case in Ecuador on
Colombia's western border where the Ecuadorian Government in rushing to help
the USAF expand an air force base and debating whether or not to make the
U.S. dollar the country's official currency. Throughout all of this the
U.S. Military will assert its presence and it will take advantage of a
multitude of political and combat environments to perfect its operational
skills and effectively re-colonize and de-populate parts of the region. On
May 23, 2000 as far north as Guatemala, which borders Mexico, General
Wilhelm ordered 40 combat Marines into that country, equipped with Black
hawk and Chinook helicopter gunships. Their purpose: to fight drugs.
And lastly, tried and true CIA-friendly politicians, are beginning to
lay the groundwork for direct intervention in Panama to guarantee a
Vietnam-like feeding frenzy. On June 9, while covering Congressional
hearings on the drug trade, Reuters reported that, " 'The war in neighboring
Colombia against well-armed narco-terrorist forces, financed through
laundered drug profits through Panama's banks is escalating and threatens to
spread throughout the region,' said Rep. Dana Rohrabacher, a California
Republican. 'Panama does not have an army, navy or air force. The
Panamanian government and its national police force have reputations for
corruption and inefficiency.' "
Thanks to our long standing friendship with author and investigator Jonn
Christian, co-author of "The assassination of Robert F. Kennedy," and author
of a forthcoming sequel to his original (1978) work "Fatal Connections:
Linking the Kennedy and King Assassinations," we know something more about
Rohrabacher. And it fits all too well into the Vietnam mold. FTW is in
possession of LAPD reports and San Diego police intelligence files
indicating that the diminutive Rohrabacher, then just 20, was intimately
connected with armed radical right-wing CIA funded elements that had been
planning assassinations of both Martin Luther King and Bobby Kennedy. In
fact, Rohrabacher, then a young conservative Republican, was at the
Ambassador hotel on June 5, 1968, the night that RFK was assassinated and
was interviewed by LAPD. That murder led to the eventual election of
Richard Nixon and the prolongation of the Vietnam War for another seven
painful, profitable years.
The parallels between Colombia and Vietnam are inescapable and
unavoidable. After twenty-five years, the passing of an entire generation,
the forces that govern us behind the scenes are poised to unleash another
"floating crap game" of profits, corporate expansion, re-colonization and
even genocide. The one glaring and hope-giving difference is that this time
the war will be justified on the basis of fighting not Communists, but drug
traffickers - and only one gang of drug traffickers at that. We will see
the American people's willingness to accept this ploy when the children of
the bull market begin to die.
http://www.mail-archive.com/natnews@egroups.com/msg01280.html
Reprinted under the Fair Use http://www4.law.cornell.edu/uscode/17/107.html doctrine
of international copyright law.
===========================================================================

THE CLINTONS CLEAROUT: TAKE $200,000 WORTH OF WHITE HOUSE FURNISHINGS...
DAILY MAIL January 22, 2001

Bill Clinton bid a reluctant farewell to the White House on Saturday, taking an unprecedented $200,000 worth of furnishings to remember it by.
The items included works of art, chinaware and rugs - many of them gifts from the ex-president's supporters in Hollywood - amassed during his eight years in office.
http://www.drudgereport.com/flash53.htm

White House Trashed By Clinton's Staff ....Jan.26.2001

Clinton staff 'vandalised' White House
by Jeremy Campbell in Washington

President George Bush has launched an investigation into what appears to be a systematic disabling of White House equipment by outgoing members of Bill Clinton's staff, and obscene messages left for the new administration.

The inquiry, which could result in prosecution, was prompted by what internet journalist Matt Drudge called "acts of vandalism and destruction of federal property" and widespread sabotage of White House office equipment.

Telephone lines have been cut, voice-mail messages changed to scatological, lewd greetings. One Bush staffer's grandmother telephoned his office from the Midwest and was "horrified" by what she heard on his message machine.

Many telephone lines were switched to the wrong offices. Desks were turned upside down and rubbish scattered everywhere.

Filing cabinets were glued shut, pornographic pictures inserted into computer printers, together with obscene slogans. In one office hallway, lewd graffiti had been written with a Magic Marker.

Harriet Miers, assistant to President Bush, will head the investigation and will consider legal action against individuals for theft. White House aides are providing her with names of Clinton staffers who occupied offices in which the sabotage is particularly blatant.

Video films of the ransacked quarters and damaged equipment are being prepared, as well as taped interviews with key people.

Offices in the vice president's quarters next to the White House were also found in a "complete shambles". Tipper Gore, wife of outgoing Vice President Al Gore said she was "mortified" and apologised to incoming Vice-President Dick Cheney.

Earlier this week it was learned that many computer keyboards in the White House are missing the letter "W" which is President Bush's middle initial. He is often known by that alone. It was the extent and organised nature of the mischief that apparently persuaded the incoming Bush staffers that it was more than just a prank.

"There are dozens, if not hundreds, of keyboards with these missing keys," a White House aide said. "In some cases the 'W' is marked out, but the most prevalent example is the key being removed.

"In some cases the 'W' keys have been taped on top of the doorways, which are 12 feet tall. In other cases, they were glued on with Superglue, right way up or upside down."

The vandalism occurred in "any number" of different offices, the aide said. "It has the technical and computer support people very busy. They already have quite a lot to do. I don't believe they expected to be coping with this as well."

The new White House staff have been told to keep quiet for now about the extent of the damage, Mr Drudge said. That means the worst may not be known yet. Prosecutions are considered likely.

Source: http://www.thisislondon.co.uk/dynamic/news/story.html?in_review_id=354989&in_review_text_id=299455


WHITE HOUSE OFFICES LEFT 'TRASHED': PORN BOMBS, LEWD MESSAGES; LEGAL PROBE CONSIDERED
http://drudgereport.com/wh93a.htm

==============================================================

The Nightmare Called Bill Clinton Haunts On Wednesday, January 31, 2001

Bill Clinton's despicable legacy lives on.

It didn't end when his aides vandalized the White House and Old Executive Office Building, stripping "W" keys off computer keyboards, sealing desk drawers closed with glue and redirecting computers to porn sites.

It didn't end with Bill and Hillary sneaking out of 1600 Pennsylvania Avenue with silverware, plates and God-knows-what-else hidden in their suitcases.

And it didn't end with the Clinton entourage stripping Air Force One bare of coffee cups, glassware and logo towels during the flight from Washington to New York.

No, Clinton continues to moon the American public and rip off taxpayers every chance he gets.

The former President, one of the youngest ever to leave the White House alive, plans to rent more than 8,000 square feet of prime office space in Manhattan, signing a lease for the entire 56th Floor of New York City's Carnegie Tower at a cost of more than $700,000 a year to American taxpayers.

That's more than the cost we currently pay for all of the office space for all of the other ex-presidents (Ford, Bush, Reagan and Carter).

"President Clinton's office space would shatter all previous records for former presidents, who are already living high on the taxpayer tab," said Pete Sepp of the National Taxpayers Union.

That's our Bill. If there's a record for ripping off the taxpayer, or bringing the image of the Presidency to a new low, your can be sure he will shatter it.

It wasn't enough to bring shame to the Oval Office with perjury, obstruction of justice and blowjobs from eager young interns. Clinton continues to drop his pants and flash his ass to the world for all to see. He doesn't care. He's Peck's ultimate bad boy, the flashy rogue who always gets away and thumbs his nose at all who shake their heads and wonder how he does it.

From lying to the American public ("I did not have sex with that woman"), perjuring himself before a grand jury, obstructing justice at every turn and, finally, to selling pardons to the highest bidders, Clinton has over and over again proven himself to be nothing more than Arkansas trailer trash.

Here is a man who, along with his shameless wife, is more than $10 million in debt from legal bills alone, yet who manages to get not one, but two, multi-million dollar mortgages for mansions in New York and Washington and furnish them by openly soliciting lavish gifts from political supporters.

Then he charges the federal government rent for the U.S. Secret Service operations on his New York estate, rent which just happens to be the same as his mortgage payment.

Now he plans to move into lavish, $700 grand-a-year offices in Manhattan.

Yes, Bill Clinton has left Washington.

However, the legacy of that rotten, corrupt son-of-a-bitch will continue to haunt (and cost) us for years to come.

http://chblue.com/rant.asp?ID=1185

=================================

Goodbye, good riddance

Ambrose Evans-Pritchard
Goodbye, good riddance
Sun May 6 19:25:29 2001


Goodbye, good riddance
http://www.telegraph.co.uk/et?ac=000134688613073&rtmo=335c1329&atmo=335c1329&pg=/et/97/4/20/wbye20.html

TO the delight of the White House, Ambrose Evans-Pritchard is leaving
Washington. Time and again his stories on the Clintons and their abuses of
power have been proved correct. He leaves with a warning for Americans

It was something of a compliment, I suppose, when the White House singled me out for attack in their report on the media "food chain" assault against the Clintons. Now, apparently, the President's men are relishing the prospect of my departure after four years as Washington correspondent for The Telegraph - the notorious London "tabloid", as they call it.

"That's another British invasion we're glad is over," the White House told George magazine. "The guy was nothing but a pain in the ass."

Good. Let me state for the record that I was not sent to Washington as part of a British
government plot to destabilise the Clinton Administration in revenge for US meddling in Ulster. Or at least, I don't think I was. Contrary to assertions made in a Congressional hearing, I have never worked for British military intelligence, or MI5, or MI6, or for that matter MI7.5 - the fabled Welsh branch!

No, I found my own way into a spitting match with President Clinton. It was the last thing I
expected upon arriving in Washington, for I had succumbed to the Clinton charm years before at a meeting of the Democratic Leadership Council. As for Hillary, I was rather taken by her image of flinty altruism.

Disappointment was swift, however. I was stunned when the new President - barely installed in the White House - repudiated his campaign promise for a tax cut. It was downhill from there.

The Clintons look good from a distance. As Yale Law School graduates they have mastered the
language and style of the mandarin class. It is only when you walk through the looking glass into the Arkansas underworld they came from that you begin to realise something is horribly wrong.

You learn that Bill Clinton grew up in the Dixie mafia stronghold of Hot Springs, and that his
brother, Roger, was a convicted drug dealer who was once taped during under-cover surveillance saying "got to get some for my brother, he's got a nose like a vacuum cleaner". You learn about sworn testimony that links Clinton to cocaine smuggling in the early 1980s. You learn that Clinton's chief of security in Little Rock was gunned down in 1993 by assassins who seem to be enjoying immunity.

Oh, yes, and let us not forget the allegation that Bill and Hillary helped empty a bank called
Madison Guaranty - but I will leave that to the special prosecutor, Kenneth Starr.

Bill Clinton is not the first president with the skeletons of the mob in his closet. Harry Truman, for instance, was a protege of the Pendergast crime machine in Kansas City. All you have to know about Bill Clinton is that he chose Patsy Thomasson - top lieutenant of convicted cocaine dealer Dan Lasater - to be his White House chief of personnel.

Once that has sunk in, you can start to understand how seriously this president has been
compromised, and how much of a threat he could pose to the democratic system if allowed to get away with incremental abuse at a national level.

The Clintons wasted little time taking charge of the US Justice Department. All US Attorneys were asked to hand in their resignations. It was a move of breath-taking audacity, one that gave the Clintons control over the prosecutorial machinery of the federal government in every judicial district in the country.

They then set about eliminating the Director of the FBI, William Sessions, who was known for his refusal to countenance White House interference in the affairs of the Bureau. The post of FBI Director is supposed to be a 10-year appointment that puts it above politics. But Sessions was toppled in a Washington putsch, without a murmur of protest from America's press, and replaced by the hapless errand boy Louis Freeh. And I almost forgot, the Clintons installed their friend Webster Hubbell as "shadow" Attorney General - until Hubbell was jailed for Arkansas crimes.

When you are living through events day by day it is hard to know whether you are witnessing a historic turning point, or just mistaking the usual noise of politics for something meaningful. But there is no doubt that strange things have been going on in America.

The Clinton era has spawned an armed militia movement involving tens of thousands of people. The last time anything like this occurred was in the 1850s with the emergence of the southern gun clubs. It is easy to dismiss the militia as Right-wing nuts: it is much harder to read the complex sociology of civic revolt. At the very least the militias reveal the hatred building up against the irksome yuppies who run the country.

It is under this president that domestic terrorism has become a feature of life in America,
culminating in the destruction of the Oklahama federal building on April 19, 1995. What set the deadly spiral in motion was the Waco assault two years before, and the cover-up that followed.

No official has ever lost a day's pay for precipitating the incineration of 80 people, most of them women and children, in the worst abuse of power since Wounded Knee a century ago. Instead of shame and accountability, the Clinton administration accused the victims of setting fire to themselves and their children, a posthumous smear that does not bear serious scrutiny. It then compounded the injustice by pushing for a malicious prosecution of the survivors.

Nothing does more to sap the life of a democracy than the abuse of power. Public trust is
dangerously low. According to polls, barely a quarter of the American people now feel that they can count on the federal government to do the right thing.

A majority refuse to accept that Vincent Foster committed suicide, and they have good reason for their doubts. The paramedics and crime scene witnesses in Fort Marcy Park on July 20, 1993, tell a story that flatly contradicts the official findings. A police Polaroid shows a .22 calibre bullet wound in Foster's neck that the autopsy somehow failed to note. Are Americans to believe that Hillary Clinton's closest friend shot himself twice, with two different guns?

The Washington press corps has chosen not to report on this sort of thing, of course, because it always gives more weight to the utterings of an "official" source, with a title, than it does to the testimony of a common citizen. It has the matter backwards, in my opinion, because the "official" usually has the greater interest in lying.

Even so, the truth is getting out. Unauthorised stories are reaching the public through the samizdat links of the Internet and talk radio. From there it disseminates by word of mouth, spreading a thick layer of cynicism across the country.

Of all the bad things that Clinton has done to America, the worst is turning the FBI into a federal replica of the Arkansas State Police. Whether it is the persecution of dissident investigators in the air disasters of Pan Am 103 and TWA 800, or allowing the White House to peruse the secret files of political opponents, or the alledged intimidation of key witnesses in the Foster case, the FBI is starting to look like the enforcement arm of a police state.

The latest shocker is the decision to punish Frederic Whitehurst, the whistle-blower who first came forward with tales of corruption at the FBI crime labs. An internal inquiry has conceded that the lab tilted evidence "to incriminate the defendants" and cooked up the theory that a fertiliser bomb blew up the Oklahoma federal building after it found fertiliser at the house of a suspect, Terry Nichols. But the Justice Department seems more interested in denigrating Whitehurst, the lone hero of this sorry tale, than flagellating itself.

Look at the treatment of Carol Howe, the undercover informant who tracked the early stages of what appears to be the Oklahoma bombing conspiracy. The moment she surfaced as a threat to the "lone bomber" case against Timothy McVeigh, this January, she was indicted on criminal
charges.

The FBI claims that she was dropped as an informant months before the bombing, but debriefing reports show the Bureau continued to receive her intelligence weeks after the blast. They also show that she named members of a neo-Nazi terrorist cell who had cased the Oklahoma federal building in December 1994 with the intention of bombing it. Yet the FBI did not follow up her reports. It conducted 26,000 witness interviews, most of them irrelevant, but could not find time to pursue the suspects who were specifically named by a paid informant.

This leaves the nasty suspicion that the FBI is shielding this neo-Nazi group in order to cover its own tracks. If it turns out that the bombing was a bungled sting operation by the FBI, as some of the victims are now alleging, the only fit response is to send bulldozers down Pennsylvania Avenue to flatten the Hoover Building once and for all.

A monument should be raised on the rubble of the FBI headquarters that reads Quis Custodiet
Ipsos Custodes? (Who Shall Guard the Guards?) as a warning to free-born Americans of the next millennium.

Is Bill Clinton to blame? Of course he is. Degradation spreads from the top down. Four years
were damaging enough. Another four, if Clinton lasts, will do real harm to the institutions of the US federal government.

Perhaps it is impolite for a London newspaper to say such things about a president of the United States. Many people think so. Clinton is not so bad, the argument goes. He is running a pretty good economy. The planes are flying on time. But you could have said the same about Benito Mussolini. A lot of people did, in fact, much to their regret later.

Critics tell me that I have invested too much emotion in my quarrel with the Clintons. To that I plead guilty. It comes from befriending so many of their victims. I am content to be blacklisted as the "mad scribbler" - as the Washington Post called me this week - for I am confident that one dayhistorians are going to view Clinton as a the last great cad of the 20th century, or worse.

To the American people I bid a fond farewell. Guard your liberties. It is the trust of each generation to pass a free republic to the next. And if I know you right, you will rouse yourself from slumber to ensure exactly that.
---
Al Gore - FOR a One World Church and UN Dictatorship
http://www.apfn.org/apfn/dictatorship.htm

The slide into dictatorship
http://www.apfn.org/apfn/dictatorship2.htm

THE TRUTH ABOUT THE WORLD COUNCIL OF CHURCHES
http://www.apfn.org/apfn/WCC.htm
=======================================================
"The only thing necessary for the triumph of evil -
is for good men to do nothing."
- Edmund Burke
=======================================================
Video:
Download Windows Media Player 7 CLICK HERE
We Have Political Mobsters Running This Country!
Circle of Power
American Patriot Friends Network
"....a network of net workers...."

APFN IS NOT A BUSINESS
APFN IS SUPPORTED BY "FREE WILL" GIFT/DONATIONS
Without Justice, there is JUST_US!
http://www.apfn.org

If you would like to pledge a contribution to APFN:
http://www.apfn.org/apfn/contributions.htm
[Original Website: http://www.apfn.org/apfn/clintons.htm]

E-Mail: apfn@apfn.org
Last updated 08/13/2007