Wayne Morin Jr, whom I met over the Internet by accident when I was looking for material to expose psychiatry, has now become a very dear friend of mine. He has spent 18 years at Napa State (mental) Hospital, illegally put there by his drug abusing mother when he was a minor, who used a fake ID of Wayne, which showed him as being older than he was.
Wayne has had an extremely hard life. When he has not been institutionalized, he has been living on the street, abusing drugs, and even made a living as a child prostitute in order to stay alive. Therefore it is stunning to find this person to be totally sane, especially after all the incredible abuse he went through at Napa State Hospital. He is probably the mentally strongest person I have ever encountered. It is an honor to be his friend.
Together, Wayne and I have worked hard to expose psychiatry as the corrupt pseudo-science it is today. Wayne has participated in a numerous of different radio shows, most recently on X-Zone Radio with Rob McConnell, Channel Z, and Pastor Jack Radio Show. Wayne has provided so much overwhelming evidence on how the mental hospitals work behind closed doors that the word of mouth has found its way up the government lines, and certain government officials are backing him up, and Michael Moore has showed interest as well in Wayne's information; maybe something he can use in his upcoming documentary about the Pharmaceutical Industry and Mental Health.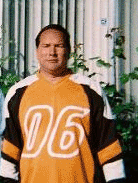 Wayne as a teenager, as an inmate, and today
For more background, please read the articles about, and by, Wayne Morin Jr that we have posted on the Illuminati News website:
Sexual Abuse and Mind Control at Napa State Hospital
The Weirdest Prison Rules
NAPA State Hospital - An American Nightmare
Then, please listen to the radio shows he has participated in and download them for free if you wish. Click here to listen: The Wayne Morin Jr Tapes - The Exposure of the Horrors at Napa State Hospital.
Wayne's mother, who was a hippie in California in the sixties and seventies, hung out with quite a few of the famous rock stars at that time; many of them still popular, some of them dead. Because of this, Wayne got to know about many of them as well, and he also learned what is behind the rock industry, how the rock musicians are manipulated, where many of them are practicing Satanists and important cogs in the machinery that is building the occult New World Order. He is now revealing the truth about the rock industry in the following video and audio. Here are Wayne's own words:
I would like to EXPOSE the Rock Industries. I have done this before on Pastor Rick Strawcutter's show in 2001. I will be naming names of Rock Musicians, Soul Selling, Back-masking, Sex, Drugs, and Deaths.

Thank you very very much
In Jesus Christ Services
Wayne Morin Jr.

Hope you'll enjoy and stay tuned. More to come,
Wes Penre

Video

Introduction by Wayne Morin Jr (3:50)





Audio
Channel Z Talkshow, Feb 06, 2006: Wayne talks from own experience about the "Death Cult", which is the rock'n'roll industry, and explains who the "Mighty Quinn" was that Bob Dylan wrote about. (You may want to fast forward 23 minutes into the audio file, where the interview with Wayne begins). (Total length: 1:00:30) (The Wayne Morin Jr. interview is 35:00)
Audio

Wayne Morin Jr exposing occultism, Satanism, drug abuse and mind control in the rock'n'roll business. This tape is a few years old, but has great information on it, most of it is from Wayne's own, personal experiences. (50:35)

Audio



The Zeph Daniels Show:

Survivor of Satanism and illuminati Mind Control Speaks Out against Slanderous Lies, March 31, 2006: Celebrity Guest Chico Vega Legendary Drifters Support Callers Wayne Morin Jr and Jimmy from S.C. (59:37)

Audio

Wee Hours Radio.com, Apr 26, 2006: Reaching out to help those who have and are continuing to suffer abuse at the hands of state mental institutions and juvenile detention facilities. In this first audio with Wayne Morin, he gives a brief outline of his life from his childhood to what he is doing now to help "free" others from the suffering and abuse. Wayne, a believer in Jesus Christ, raises the alarm about the use of restraints, rapes, and murders that go on in these institutions. All of it "protected" under the new "patient privacy" law.

Here is a direct link to the audio file.


- - - - - - - -
Disclaimer
- - - - - - - -

---

© Copyright Illuminati News. Permission granted to re-send, post and place on web sites for non-commercial purposes, if shown with no alterations or additions. Excerpts from the article are allowed, as long as they do not distort the concept of the same article. This notice must accompany all reposting.

---

---

Last Updated:
Sunday, July 29, 2007 06:31:49 PM
Design downloaded from FreeWebTemplates.com
Free web design, web templates, web layouts, and website resources!