---
Sexual Abuse and Mind Control at Napa State Hospital
- A Personal Story -
by Wes Penre, April 27, 2005
(Posted here: April 27, 2005)
---
researched psychiatry long before I started researching the New World Order; before I even knew what the New World Order was. What came out of that research was mind-boggling. I thought that psychiatry, this so-called "science", must be the most vicious practice on Earth. The history of psychiatry and the evil it has done to humanity is more than an average person can confront. Little did I know back then that psychiatry is one of the most important tools for the Illuminati when they research advanced mind control techniques. Most of the highest known illuminists are also psychiatrists.
Just recently, when I decided to write some articles on psychiatry, I accidentally stumbled upon the story of Wayne Morin Jr. I was searching through the "wayback machine", where you can find websites that are no longer on the regular Internet. For you who don't know, it is an archive of old websites that have been taken off the Internet for one reason or another. I figured that there must be at least a few good websites that were taken down due to threats from the forces they intended to expose, and I wanted to find those as they certainly must have had some good information.
That's where I found the story of Wayne Morin Jr., written by himself. After had read it, I decided to use it as my first article on psychiatry. Wayne's case is so typical, just because he was never heard, never believed, and his website is no longer on the Internet, although it should be highlighted as one of the most important websites out there, if there would be any justice in this world.
Mind control. The controversy of what is and what is not mind control rages on among scholars in the schools of law, human rights and mental health. An accepted definition is: "psychological manipulation, thought reform and/or mind manipulation which results in a form of behavior modification."
A close scrutiny by the media and public, of one of the biggest destructive "Murder Industry Cults" is "Murderers of the Mind: The Awful Truth About Psychology, Psychiatry, and the Mental "Health" Industry", published by "Citizens Commission on Human Rights International". It details an epidemic involving physical and psychological abuses, supplies and in-depth professional investigation and would provide the first steps in resolving the rash of problems that destructive cults, serial killers, sexual child abusers, thrust upon society. Citizens Commission on Human Rights International (or CCHR for short) is run by the Church of Scientology, whose doctrine I am not subscribing to, because the Church has their own reason and agenda on exposing psychiatry, but that fact does not nullify their extremely thorough investigation into the subject of psychiatry. Scientology's research in this field is very accurate and backed up with evidence.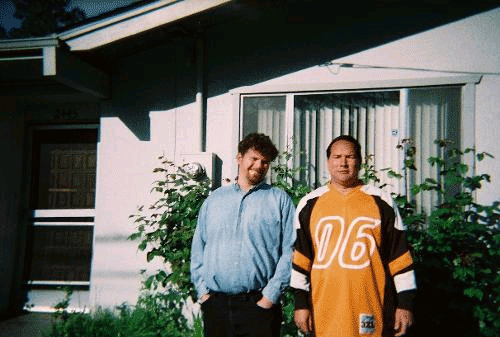 Shane Carlos Arroyo (left) and Wayne Morin Jr (right), both former inmates at Napa State Hospital for years.
As consumers of national news media supplied information, we continued to accept half-truths, which, in this case scenario, is seeing and hearing only what results form mass mind manipulation. The Churches in America are the biggest power base for Mental Health Industry. Secret Knowledge equals power, with the result being control.
After have researched the field of psychiatry pretty thoroughly, the following story rings very true. Let me share it with you.

Wayne Morin Jr as a teenager
When Wayne Morin Jr. wrote his article for the Internet, he had been locked up since 1987 in a mental hospital for calling in a fake bomb threat and leaving an egg timer in a grocery store. He also called the grocery store and told them he placed the fake bomb and gave his name, home address and phone number. Wayne was at the time he wrote the article a devoted Christian and said he was facing daily persecution as a Christian and a political prisoner. He has been in many magazines, such as Media Bypass; Spotlight; Truth At Last; Cutting Edge Newsletter, and he has also done a number of radio talk shows.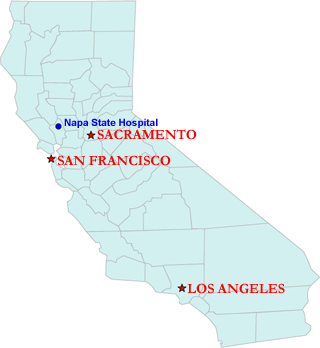 His first admission at Napa State Hospital was when he was 12 years old, in 1971. He has had 115 admissions at Napa State Hospital (NSH) since that time, but all were civil commitments. He explains that his mother, brother, and sister have all sat around and used marijuana together with his psyche-tech on a weekend pass. While still accommodated at NSH, at the ages of 13-16, he was taken to his psyche-tech's home in Fairfield, where he used marijuana and Dexedrine, all on weekend passes. There was another time at NSH when a psyche-tech "fell in love" with him and they had sex, and he was given Ritalin in injection form.
The Napa Sentinel, a local newspaper, has full knowledge of NSH past and up-to-date rampant sex abuses and drug use. There was a time in the 1980's when most of all the psyche staff at NSH used marijuana and smoked it with the clients there, according to Wayne. This was during the height of "America's Drug War", and when a person could use drug (ab)use as a mental illness and furthermore get paid by SSI for being mentally ill, at $700.00 a month.
During Wayne's 115 admissions as NSH he never had one single felony charge. His instant offense was committed in 1987, and he was sentenced only for three years. However, the State never wanted him released on "outpatient treatment". Why was that? Wayne explains:
"Just look at their jobs being on the line, and how the psychiatric staff know that the statutes of limitations never run out on murders and rape, which have occurred in this hospital. Knowledge is Power, they know this, so by keeping me inside the fence they maintain their immunity from outside investigation. It is a known fact that mental health staff as NSH use Gestapo-type tactics and invent symptoms without evidence in order to delay the discharge of patients(1).These doctors with Master's degrees can also be negligent and accessories to murders and other crimes, who do whatever it takes to cover up both intentional and unintentional mistakes, as if, in the old lunatic days of torture and mysterious deaths in the state hospitals seem to be protected from the law. The same people on patient's treatment team punish them for any disagreement, trying to defend themselves, and particularly frown on any complaint to Patient's Rights, if not a reason for retaliation due to their power and illusion of perfection being challenged; in a sense they are playing God with people's lives. Even if an individual staff member knows the claims against a patient are false they will side with their peers, acting as a fraternity of control, under the guise of hospital policy. This form of racket contradicts the entire concept of people with a diagnosed mental illness being treated and recovering for return to the community, especially for people as myself, who was drunk when committing a crime which was not that serious. Instead, we have psychiatrists and psychologists acting like prosecutors who in reality answer to nobody, and whose main remedy to alleged symptoms is to increase a patient's medication, do anything about their situation, so they give up trying to fight."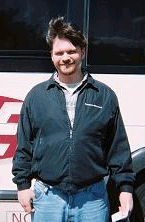 Wayne Morin Jr (left), Shane Arroyo (right) and David Hoover (below).
Shane, David and Wayne have come a long way. Become best friends, all three have been
inmates at Napa State Hospital for years and gone through the horrors together.
David Hoover tragically died in his sleep in
January 2006.
Wayne is a political prisoner who should have been released to a group home years ago. He says he needs assistance from an organization to provide counsel and assistance for his legal release. He states that he has a lot of stories to tell about what is going on at NSH, and he would not hesitate taking a lie detector test. Not that he needs to, the evidence is overwhelming, and some of it is even in the mainstream media(2).

In Memorial:
Anna Caroline Jennings (1960 - 1992)
Anna Jennings was sexually abused when she was less than three years old. This was the first of several abuses that occurred over her lifetime, and put a confused, frightened child into a mental health system that neither recognized nor treated Anna's real problem. Diagnosed "schizophrenic".. she was institutionalized for more than 12 years from age 15 to 32. Although she attempted to communicate the "awful things" that had happened to her, there was no one to listen, understand or help her.
She took her life on October 24, 1992, on a back ward of a state mental hospital [which was in fact Napa State Hospital, editor's note]. Please take some time and go to Anna's Memorial Page and read about this young woman, whom Wayne met at Napa, but never got to know too well. He just remembers she was a very nice person: The Anna Foundation Organization.


---
Updates:
Nov 11, 2005: Here is an important link, which would be a good idea to review. When Wayne once had it up on his website, he was ordered to take it down:
http://web.archive.org/web/20030621205853/http://www.writeaprisoner.com/z-na199504.htm.
Feb 26, 2006: Here are some good links Wayne wanted me to add:
Human Rights in the Mental Health System
Protection & Advocacy, Inc: "Advancing the human and legal rights of Californians with disabilities."
Annie Armen Live - ANNIEBIOTICS: Great website with information on the dangers of psychiatric drugs.
What is CineMania?: CineMania is a phenomenon peculiar to members of the media who are driven by the need to exploit and sensationalize - keenly aware that ethical considerations are no longer a marketable commodity in the world of media competition.
July 09, 2006: Wayne just made 4 mini documentaries and posted them at Google Video. He is visiting outside Napa State Hospital, filming the facility and commenting on what we are seeing. Please check them out:
Napa State Hospital "mini documentary", by Wayne Morin Jr Part 1
Napa State Hospital "mini documentary", by Wayne Morin Jr Part 2
Napa State Hospital "mini documentary", by Wayne Morin Jr Part 3
Napa State Hospital "mini documentary", by Wayne Morin Jr Part 4
September 23, 2006: Wayne Morin Jr. now has his own TV show, exposing the horrors within Napa State Hospital and the field of psychiatry:

"Lets Talk Napa State Hospital"
A new controversial Napa TV Show
Hosted by Wayne Morin Jr.
Napa TV: Channels 27&28
www.napatv.org





This TV show will be an Open Dialogue discussion forum. Wayne Morin Jr. has done 32 radio-talk shows and is known as a humanitarian, and is a concerned voice for the patients families. The Department of Justice Civil Rights in Washington D.C. has had many interviews with Wayne about the four State Mental Hospitals in California. If you have a concern or an idea for the show, work at either Napa, Patton, Metropolitan, or Atascadero State Hospitals, or if you are a family member, friend or a concerned citizen and have questions or would like to voice your thoughts about any of the state hospitals on TV please send your contact information.


If you would like to be a guest on
"Lets Talk Napa State Hospital"
or have an idea for the show please contact:
Email: wyngerewm@yahoo.com.
Please send this flyer to everyone with concerns about mental health.

X Zone Radio
www.xzone-radio.com
Channel Z
www.zephnet.com
Pastor Jack Radio
www.churchoftomjones.com
The Byte Show
www.thebyteshow.com
New World Exposure
www.newworldexposure.blogspot.com
Annie Armen Live
www.anniearmenlive.org
The Wee Hours Radio.com
www.weehoursradio.com
---
Footnotes:
(1) This is very true, and I am aware of this from my own research. And worse than that; top psychiatrists are inventing new mental illnesses during their board meetings in order to get more resources and financial aid, and to push new or more drugs into the society. They literally VOTE by majority votes what will become a mental illness and what will not, without any scientific backup. However, behind all this hides a more vicious reason; the Illuminati want to declare most of the population mentally ill and have the new illnesses they invent recorded so that they can be used against the citizens when necessary, to lock people in. This is particularly convenient if they want to lock in people who oppose their New World Order. In the early 90's it was even mentioned in the mainstream media how psychiatrists wanted to declare "Pre-menstrual Symptoms" as a mental illness.
(2) Since I wrote this article, me and Wayne have become good friends, and if you want to e-mail him in person, his e-mail address is waynemorinjr@comcast.net. Also, Shane C. Arroyo, another good friend of Wayne's (see photo above), has gone through similar experiences. You may contact him as well at thescarroyopad@sbcglobal.net.
---
References and resources:
By Wayne Morin Jr.:
The Spark Gospel Ministries Webpage
About Wayne Morin Jr.:
http://64.233.161.104/search?q=cache:http://www.davidicke.net/emagazine/vol26/articles/morin.html
Miscellaneous, but important links:
Dangerous Medicine
Law Project for Psychiatric Rights
* * *
On Napa State Hospital. Unfortunately, this hospital is only one of hundreds sharing the same kind of problems - problems that are systematically created. I chose to expose this particular hospital to show an example of how mental health works on a much larger scale than in one specific location. This is a typical institution.

To show you what a living hell the patients are living in, I have created a data base of information, covering NAPA State Hospital only. The abuses there have been covered frequently by the mainstream media and we hope and pray that something will be done about it. If there is anything you can do to help out, it is appreciated beyond words. For more information, please see the article by me and Wayne Morin Jr.: NAPA State Hospital - An American Nightmare (A Media Information Database).
* * *
On Mind Control in General:
1. Visitations Mind Control: http://web.archive.org/web/19991011215654/http:/www.visitations.com/mindcontrol/intro.htm.
- - - - - - - -
Disclaimer
- - - - - - - -
---
If you want to cut down your exam stress, you can use our 117-101 exam certification guide and exam 650-379 exam product. We also provide exam 000-115 certifications resources, exam 642-681 training solutions and exam HP0-Y33 dumps which are updated by our professionals on regular basis.
---
© Copyright Illuminati News. Permission granted to re-send, post and place on web sites for non-commercial purposes, if shown with no alterations or additions. Excerpts from the article are allowed, as long as they do not distort the concept of the same article. This notice must accompany all reposting.
---
---
Last Updated:
Saturday, November 05, 2011 06:31:43 PM
Design downloaded from FreeWebTemplates.com
Free web design, web templates, web layouts, and website resources!