Baphomet
(by Wes Penre for Illuminati News, Posted Oct 4, 2005)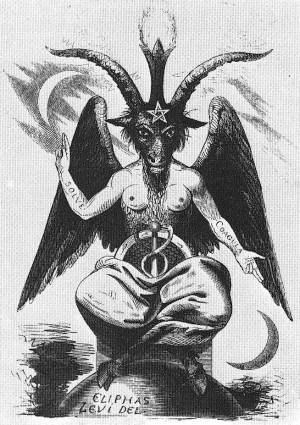 Baphomet and the Worship of him in a Masonic Temple
during the George Washington Era (Washington was himself a Freemason). Note the Knights Templar
cross on the robes.
On their own website, in an attempt to defend themselves, the Freemasons bluntly lie and claim the Templars
never worshipped Baphomet. As a fact, Freemasonry still does and so does the Illuminati.
Here is a statue of George Washington himself, posing as Baphomet:
See more proof here:
The Bavarian Illuminati Today (Their Own Website)
[Still alive and well. From Their Website (Liber Zion, Third Part): "22. Forever, I, Baphomet, will be your unique God, the only and legitimate God".]
- Gabriel López de Rojas was born in Barcelona (Spain), in 1966, June 10th . When he was young, he stood out as an athlete and musician. In 1992, he was initiated in Freemasonry. And, in 1995, he founded Illuminati Order in Barcelona (Spain).
[So Freemasonry is a Christian Religion, right???]
[And here is the obvious lie coming from the Freemasons themselves]
The Infamous Baphomet
- But how would such a respected religious order come to worship a head idol or engage in such evil? Likely, they didn't! -
---
Our all certifications material like NS0-502 dumps and 9A0-144 Certification exam material are very popular among the students, our testking 650-295 dumps in accordance to testking 1Z0-877 dumps along with testking HP2-Z07 security certification dumps are just fabulous and have no comparison with any other vendor products.
---
---