Collapse of the Fed Reserve: The 2nd American Revolution
by Dev Samael Daval, Sep 21, 2007
merican occultist, conspiracy theorist and political activist, Dev Samael Daval exposes the corruption of the Federal Reserve. Included is a segment from Monopoly Men, hosted by Dean Stockwell, featuring an overview of the roots of the Federal Reserve and illustrating how the organization has profited from wars and engineered recessions, as well as the Great Depression.
Daval viciously attacks the architects of America's economic downfall and presents compelling evidence that such a collapse is not only impending but orchestrated by the criminal bankers. He goes further to link the assassination of Abraham Lincoln and John F. Kennedy to the Federal Reserve while clearly demonstrating why gold and silver backed currency is such a threat to the puppeteers of government. Despite the harsh realities, Daval ends on a positive note by presenting a sound means by which Americans can recapture their freedom.

YouTube:

Part 1

Part 2

Part 3

Part 4

Or watch the whole 38 minutes movie in one sequence at Video.Google:

---
Wes Penre is the owner of the domain Illuminati News and the publisher of the same. Please also check out his MySpace website: http://www.myspace.com/wespenre.
---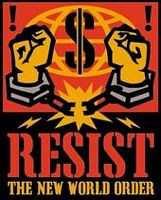 ---
Source: http://www.youtube.com/results?search_query=Collapse+of+the+Federal+Reserve%3A+The+Second+American+Revolution

---
This page may contain copyrighted material, the use of which has not always been specifically authorized by the copyright owner. I am making such material available in my efforts to advance understanding of environmental, political, human rights, economic, democracy, scientific, and social justice issues, etc. I believe this constitutes a 'fair use' of any such copyrighted material as provided for in section 107 of the US Copyright Law. In accordance with Title 17 U.S.C. Section 107, the material on this site is distributed without profit to those who have expressed a prior interest in receiving the included information for research and educational purposes.

---
---
Design downloaded from FreeWebTemplates.com
Free web design, web templates, web layouts, and website resources!
---