Last Updated:
Monday, August 06, 2007 04:10:02 AM
Bush admits that Iraq Had Nothing To Do With 9/11
by Wes Penre, Aug 05, 2007
Last Updated: Monday, August 06, 2007 04:10:02 AM
nteresting. First of all Bush is lying in this speech by saying his Administration never said that Saddam Hussein had something to do with 9/11. Then he goes on saying that the main reason for the U.S. to go into Iraq was to create stability and peace in the Middle East, although he had no legal reason to interfere in the politics of a foreign country, which was not (and is not) an immediate threat to the U.S.. He further says Saddam had no Weapons of Mass Destruction, although he THOUGHT he had at the moment(!) Then he justifies the invasion by claiming that Saddam had the power to build WMD and could thus be a future threat...
OK, let's get this straight. The U.S do have WMD and we ARE a threat to the world peace. If Iran or some other foreign country would invade the U.S. for the same reasons Bush is invading Iraq, we would be furious and do anything in our power to defend ourselves, and even call the invaders terrorists(?). So what's the difference, somebody?
---
Wes Penre is the owner of the domain Illuminati News and the publisher of the same. Please also check out his MySpace website: http://www.myspace.com/wespenre.
---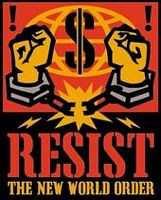 ---
---
Video Source: http://video.google.com/videoplay?docid=9218934325755914595&q=bush%20no%20ties%20911%20iraq&total=43&start=0&num=30&so=0&type=search&plindex=0

---
This page may contain copyrighted material, the use of which has not always been specifically authorized by the copyright owner. I am making such material available in my efforts to advance understanding of environmental, political, human rights, economic, democracy, scientific, and social justice issues, etc. I believe this constitutes a 'fair use' of any such copyrighted material as provided for in section 107 of the US Copyright Law. In accordance with Title 17 U.S.C. Section 107, the material on this site is distributed without profit to those who have expressed a prior interest in receiving the included information for research and educational purposes.

---
- - - - - - - -
Disclaimer
- - - - - - - -